Zombie Breakout in Lynn Hall Benefits One Health Week
November 10, 2017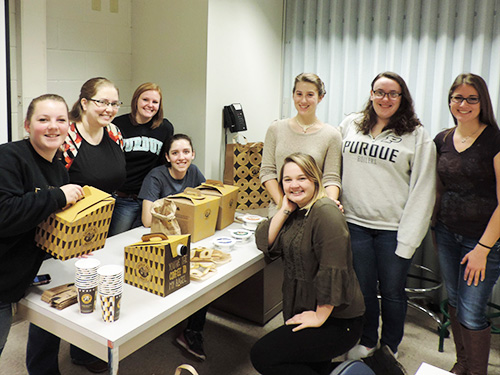 Members of the Veterinary Technology Class of 2020 won the Zombie Apocalypse event during One Health Week and received a free breakfast from the One Health Club: (left-right) Lauren Bacon, Kay Hagen, Megan Pickering, Erica Wright, Evy Foster, Marissa Koehler, Rachel Tonne, and Lily Arnold.
Would you want a veterinarian on your team during a zombie apocalypse? According to the American Veterinary Medical Association, there are several ways in which veterinary training prepares a person for such an event. During a recent zombie outbreak in Lynn Hall, organized by the Purdue One Health Club as part of One Health Week, students in both the DVM and Veterinary Technology programs proved that their training is paying off.
With zombies roaming the halls, students practiced basic zombie preparedness skills like imposing quarantine and using barrier precautions – which sometimes included their classmates – in order to prevent disease transmission. Congratulations to the Veterinary Technology Class of 2020 for having the most "uninfected" students at the end of the day! As a prize, they were treated to a free breakfast sponsored by the One Health Club.
Purdue's One Health Club planned One Health Week October 30 – November 3 as a way of celebrating the global One Health Day. Initiated in 2016 by three leading One Health organizations, One Health Day is an international campaign held on November 3 that brings attention to the need for One Health interactions. Purdue's One Health Club unites veterinarians, physicians, environmental scientists, and other health professionals alike to promote the ideals of One Health. Collectively, they aim to attain optimal health for people, animals, and the environment all over the world.
One Health Week kicked off with a presentation on infectious diseases by Dr. Betsy Schroeder from the Epidemiology Resource Center at the Indiana State Department of Health. Other activities planned by the One Health Club included a screening of "Shaun of the Dead" in Purdue's new Wilmeth Active Learning Center; sponsorship of the Grand Rounds speaker, Dr. Megin Nichols; promotion of the Coppoc One Health Lecture featuring Dr. Regina Tan; and a wrap-up session to promote discussion of the zombie apocalypse with a screening of the documentary "The Answer to Cancer Might Be Walking Beside Us" from Colorado State University's comparative oncology program and Rocky Mountain PBS.
Nora Sloan, One Health Week chair, said that she hoped students gained "a clearer understanding of One Health and how their actions not only affect the health of animals, but also the health of humans." The Purdue One Health Club seeks to integrate animal medicine with human health, in addition to environmental health. "As students in veterinary school, I think it's very easy to get bogged down with what we're learning without seeking a broader perspective. A One Health perspective is exceedingly important, as everything we do now and everything we will do in the future, whether it be interacting with owners or how we treat our patients, impacts the health of humans, animals, and the environment around us," explained Jessica Linder, co-president-elect. Click here for more information about the One Health Club.
Writer: Helen Thimlar, PVM Communications Intern, pvmnews@purdue.edu