PVM Alumna Draws Crowd for Coppoc One Health Lecture
November 10, 2017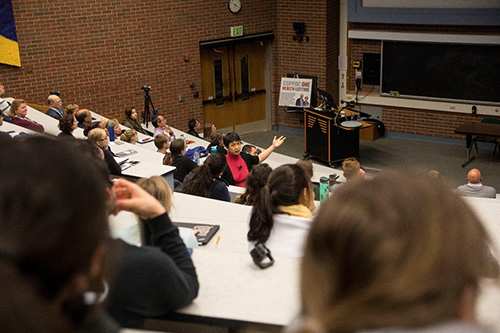 The speaker for the 2017 Coppoc One Health Lecture, Dr. Regina Tan (PU DVM '99) walks into the audience as she engages attendees during her presentation about biosecurity issues she confronts in her role as director of the Office of Food Safety in the USDA Food and Nutrition Service.
On the eve of International One Health Day, Purdue Veterinary Medicine alumna Regina Tan (PU DVM '99), an epidemiologist with extensive experience in public health, gave the fourth annual Coppoc One Health Lecture November 2 in Lynn 1136. Some 150 people attended including Purdue Veterinary Medicine students, graduate students, staff, and faculty.
Dr. Tan was introduced by Dr. Harm HogenEsch, Purdue Veterinary Medicine associate dean for research, who explained that One Health recognizes the fact that human health and animal health and the environment are all interconnected. "One Health is really an appropriate theme for a Gordon Coppoc lecture series because Dr. Coppoc served as a faculty member and administrator here in the College of Veterinary Medicine and also at the IU School of Medicine on the West Lafayette campus," Dr. HogenEsch said. Both Dr. Coppoc and his wife Harriet were present for the lecture, which is supported by an endowment they established.
Dr. HogenEsch also said it's a special occasion to have an alumna as the Coppoc One Health Lecture speaker. Dr. Tan earned her Purdue DVM degree in 1999 and then continued at Purdue and received her Master's in Public Health in 2000. A diplomate of the American College of Veterinary Preventive Medicine, Dr. Tan has served in various roles at the CDC and at the Food Safety and Inspection Service of the USDA, where she currently is the director of the Office of Food Safety in the Food and Nutrition Service (FNS).
Dr. Tan gave an engaging lecture, describing her work supporting the Office of Food Safety's mission to protect people served by FNS programs from foodborne illness. Those programs include the Emergency Food Assistance Program that helps supplement diets of low income Americans, including the elderly; the Disaster Food Assistance Program; and the National School Lunch Program that serves 30 million children across the U.S.
In her talk entitled, "School Food Defense Framework: One Medicine Concepts in Action," Dr. Tan addressed biosecurity issues related to the different sources of school foods, including commercial suppliers, local providers, and USDA Foods, as well as the variety of agencies with food safety responsibility, including the Food and Drug Administration, USDA, and state and local authorities. She said overlapping food safety and law enforcement responsibilities add to the complexity of the giant national food distribution system, as does the food distribution, storage, and transport chain which differs across the states.
Dr. Tan concluded by saying, since school food distribution represents a complex biosecurity issue, local planning and communication is key and partnerships are necessary to disseminate training and increase awareness. The talk was free and open to the public. Following the lecture, a reception was held where attendees could enjoy refreshments and visit with Dr. Tan.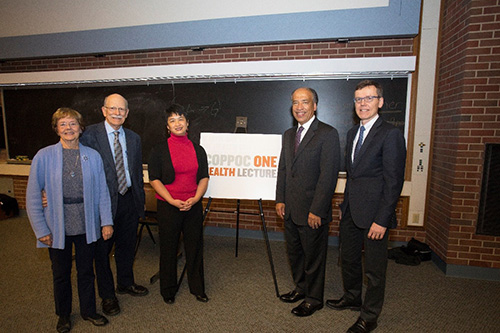 Dr. Regina Tan (center) joins in a photo-op with Dr. Gordon Coppoc and his wife Harriet and PVM Dean Willie Reed and Associate Dean for Research Harm HogenEsch before the Coppoc One Health Lecture November 2 in Lynn 1136.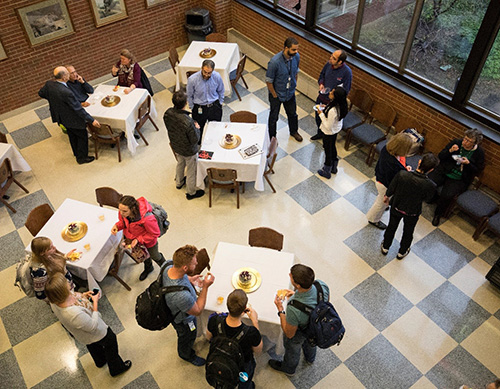 Lecture attendees enjoy the Coppoc One Health Lecture reception in the Continuum Café.
Writer: Kevin Doerr, pvmnews@purdue.edu