Grants Fund Research Led by PVM Faculty Member to Repurpose Blu-ray Technology to Diagnose Early-stage Cancer
November 3, 2017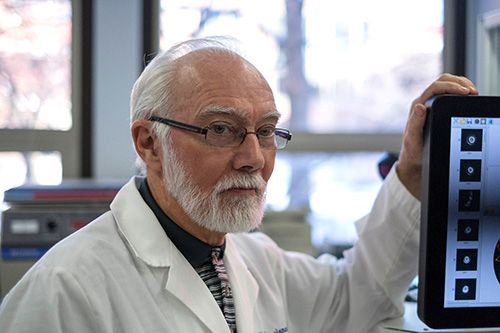 Dr. J. Paul Robinson is the SVM Professor of Cytomics in PVM's Department of Basic Medical Sciences and a professor in Purdue's Weldon School of Biomedical Engineering. His company, Cytomics Analytical LLC, is pursuing a way to repurpose high-definition Blu-ray technology, popular for watching videos and listening to music, to diagnose early-stage cancers and monitor their treatments. (Purdue Research Foundation Photo / Oren Darling)
Purdue University researchers, including Dr. J. Paul Robinson, SVM Professor of Cytomics in Purdue Veterinary Medicine's Department of Basic Medical Sciences, have received nearly $200,000 in state and federal grants for a project that seeks to repurpose high-definition Blu-ray technology to diagnose early-stage cancers and monitor their treatments. Dr. Robinson, who holds a joint appointment as a professor in Purdue's Weldon School of Biomedical Engineering, leads a company called Cytomics Analytical LLC, which was awarded a National Institutes of Health Phase I Small Business Innovation Research Grant, also known as America's Seed Fund, for $147,364. The company also received a $50,000 grant from the Indiana Economic Development Corp.
The funding will be used to develop a low-cost diagnosis platform called MY-Blu that will use high-resolution measuring devices in Blu-ray to find nanoparticles released in blood in early stages of cancer, as well as from many syndromes, according to Dr. Robinson. Though it is technologically challenging to accurately detect particles smaller than 100 nanometers, Blu-ray technology has shown promise in detecting particles that are 10 nanometers to 20 nanometers.
"We were finally able to convince someone at NIH that this is worthwhile," Dr. Robinson said. "It seems improbable that you could do this, but we have conducted extensive research and are confident it will work and it will be revolutionary."
Dr. Robinson explained that cancer cells break down when they are attacked by the immune system and release the microparticles. "But we can't see them unless we use very expensive equipment, like an electron microscope, and it takes a lot of time," Dr. Robinson said. "If those microparticles are important, we ought to be able to find and identify them very quickly. We believe our modifications to Blu-ray technology will allow us to achieve this." The grants specifically will be used to adapt Blu-ray devices to detect fluorescent molecules attached to the nanoparticles. "Once we do that, we can show proof of principle that this works," Dr. Robinson said. The challenge is repurposing the Blu-ray technology to do something it wasn't intended to do.
Dr. Robinson's confidence about the project is related to the fact that his chief technology officer, Masanobu Yamamoto, an adjunct professor in the Department of Basic Medical Sciences, is a former lead engineer for the Sony Corp., and played a key role in developing Blu-ray technology. "He is Mr. Blu-ray, because he's one of maybe a half-dozen people in the entire world who fully understand how this technology actually works. He's recognized that we can take this technology and completely repurpose it," Dr. Robinson said. "We have adopted some unique features of the technology that have never been used for the purposes we intend and designed electronics to reveal key signals." The cost of finding these nanoparticles using an approach Yamamoto calls Optical Phase Detection will be low because Blu-ray devices are already mass produced, Dr. Robinson said.
Cytomics Analytical has applied for patents to use MY-Blu technology to search for pre-cancer, and several other important diseases. The company is based in West Lafayette and has received help in its work from the Purdue Research Foundation.
Click here to view a complete news release about the research.
Writer: Kevin Doerr, pvmnews@purdue.edu