Purdue Veterinary Celebration Honors Outstanding Faculty and Alumni
October 6, 2017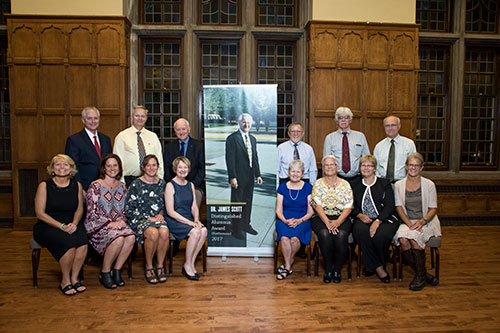 A posthumous Distinguished Alumnus Award was given at the 2017 Awards Celebration in honor of the late Dr. James Scott of the Class of 1968. At the conclusion of the event, family members gathered for a photo with the award banner honoring Dr. Scott.
The Purdue University College of Veterinary Medicine presented three Distinguished Alumnus Awards, including one that was given posthumously, and seven faculty awards during the 2017 Awards Celebration that was held September 20 during the Purdue Veterinary Conference. "Our College's tradition of excellence is directly linked to the exceptional educators and research scholars who trained Purdue Veterinary Medicine students, preparing them for distinguished careers as veterinarians and veterinary technicians and technologists," Dean Willie Reed said as he began the program. "We are very pleased to recognize several alumni and faculty by presenting time-honored awards for excellence in clinical practice, teaching, research, and service."
Established in 1978, the College's Distinguished Alumnus Award program honors outstanding alumni selected on the basis of excellence in one or more categories, including clinical practice, teaching, research, involvement in organized veterinary medicine, and service to their local community. More recently, the recognition program was expanded to be inclusive of outstanding veterinary technology alumni.
The 2017 Distinguished Alumnus Award honorees are: Kay Stewart (PU AS-VT '82), RVT, who most recently served as associate director of the University of Notre Dame's Freimann Life Sciences Center; Dr. Susan Johnson (PU DVM '78), interim associate dean of academic affairs at The Ohio State University College of Veterinary Medicine; and the late Dr. James Scott (PU DVM '68), a long-time Indianapolis veterinarian who left private practice in the latter part of his career to work for the Indiana Board of Animal Health. The award presented posthumously in honor of Dr. Scott was accepted by his wife, Marilyn. Dr. Scott passed away January 27, 2017, at the age of 72, after a battle with cancer.
Dean Reed also presented awards to Purdue Veterinary Medicine faculty members for excellence in teaching, research and engagement. The awards and recipients are:
Alumni Faculty Award for Excellence — Dr. S. Kathleen Salisbury, associate dean for academic affairs and professor of small animal surgery. Nominations are submitted by faculty and the selection is made by a committee of faculty and alumni, on the basis of the nominee's performance and contributions in: research, scholarly, or creative endeavors; instruction and related activities; and/or public and professional services and relations. Dr. Salisbury was recognized for her excellence and dedication to instruction and related activities which have influenced the careers of hundreds of veterinary students, surgery residents, and faculty members; and for her outstanding achievements as associate dean for academic affairs.
PVM Alumni Outstanding Teacher Award — Dr. Pete Bill, professor emeritus of basic medical sciences. Selection is based on balloting by DVM students who evaluate the teaching effectiveness of faculty using the following standard: "An outstanding teacher is one who demonstrates superior ability in communicating the chosen material to students and stimulates their desire to master the material. This teacher will also recognize his/her teaching responsibility does not stop at the classroom door, and therefore, will be ready to aid and motivate students in a counseling and advisory capacity, either formally or informally." A longtime faculty member, Dr. Bill is the former director of the Veterinary Technology Program and most recently served as assistant dean for academic affairs focusing on teaching and learning, before retiring this summer.
Zoetis Distinguished Teacher Award — Dr. John Christian, associate professor of veterinary clinical pathology and director of the Clinical Pathology Laboratory. This award is given annually to an outstanding teacher at each veterinary school in North America, and the selection is based on results of a student ballot. The award recipient also is eligible to compete for the National Zoetis Distinguished Teacher Award. Dr. Christian joined the faculty in the Department of Comparative Pathobiology in 1993 and since 2001 also has served as lab director and section chief of clinical pathology in the Veterinary Teaching Hospital. Students praise him as a teacher who cares greatly about their learning the material and becoming knowledgeable, equipped doctors, yet also cares about the kind of people the students are going to become.
Excellence in Teaching Award — Dr. Jonathan Townsend, clinical assistant professor of dairy production medicine and director of Purdue Veterinary Medicine extension programs. This award is sponsored by the College of Veterinary Medicine, and recipients are chosen from nominations made by peers. Dr. Townsend joined the Veterinary Clinical Sciences Department faculty in 2007. The award recognizes his outstanding teaching in veterinary medical education. He also is praised as an outstanding role model as an educator and mentor to veterinary and veterinary technician students.
Zoetis Award for Veterinary Research Excellence —Dr. Sulma Mohammed, associate professor of cancer biology in the Department of Comparative Pathobiology and the Purdue University Center for Cancer Research. Dr. Mohammed joined the Department of Comparative Pathobiology faculty in 2002. She also served as director of the Drug Discovery Shared Resource in the Purdue University Center for Cancer Research from 2002 to 2007. Dr. Mohammed's research and drug discovery work inspired her interest in developing a model to study breast cancer progression in dogs and women and to develop strategies for prevention. As a cancer researcher of Sudanese descent, she also has had a long-time interest in global oncology. She was instrumental in the reactivation of the African Organization for Research and Training in Cancer, or "AORTIC," which has become the Pan African cancer organization.
Excellence in Research Award — Dr. Deborah Knapp, the Dolores L. McCall Professor in Comparative Oncology. Dr. Knapp joined the Department of Veterinary Clinical Sciences in 1990. She was promoted to full professor in 2002 and was appointed to the named Dolores L. McCall professorship in 2006. Dr. Knapp has served as the director of the Purdue Comparative Oncology Program since 1993 and as a member of the Executive Committee of the Purdue Center for Cancer Research since 1992. The award, which is sponsored by the College, recognizes Dr. Knapp for exceptional success in conducting innovative basic and clinical research in comparative oncology that has significant national and international impact and enhances the recognition of the College of Veterinary Medicine and Purdue University.
PVM Excellence in Scholarship of Engagement Award — Dr. Lynetta Freeman, associate professor of small animal surgery with a joint appointment in the Weldon School of Biomedical Engineering. This award was established to honor Purdue Veterinary Medicine faculty who have demonstrated dedication and excellence in scholarly engagement endeavors that have impacted the College's constituents by addressing a community, professional, or societal need. The award recognizes Dr. Freeman for her leadership efforts in providing surgical experiences for students while meeting an unmet community need for neutering shelter animals through the Priority 4 Paws program, which benefits both students and animals, and has led to strong, mutually beneficial relationships among shelters and Purdue Veterinary Medicine.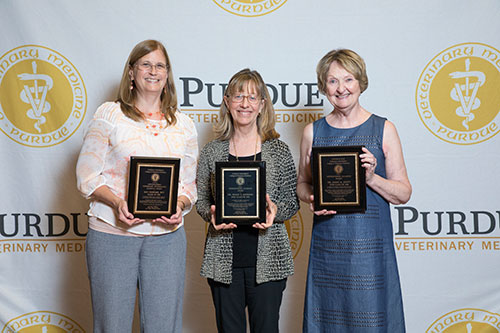 The 2017 awards for Purdue Veterinary Medicine distinguished alumni were presented to (left-right) Kay Stewart, RVT, Dr. Susan Johnson and Marilyn Scott, who accepted the posthumous award on behalf of her late husband, Dr. James Scott.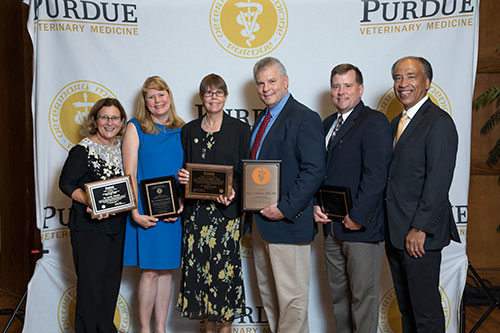 Dean Willie Reed with Purdue Veterinary Medicine faculty award winners (left-right) Dr. Lynetta Freeman, Dr. S. Kathleen Salisbury, Dr. Deborah Knapp, Dr. John Christian and Dr. Jonathan Townsend after the Awards Celebration held in the Purdue Memorial Union North Ballroom Wednesday, September 20.
Writer: Kevin Doerr, pvmnews@purdue.edu