Welcome PVM Students!
August 18, 2017
Welcome Purdue DVM Class of 2021!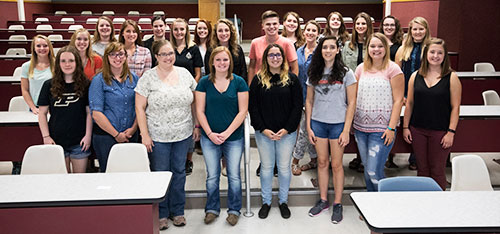 PVM Clinical Year 2 students in the Veterinary Technology Program pause for a class photo during their orientation program today.
As summer draws to a close, Purdue Veterinary Medicine students have been making their way to Lynn Hall for the start of the fall semester Monday (August 21). A total of 90 students are in the new DVM Class of 2021. They started the new school year this week with a full schedule of orientation activities. The new class includes students from more than 20 states and Puerto Rico.
The Veterinary Technology Program also is welcoming new and returning students, both on-campus and online. The Veterinary Technology on-campus program has 23 incoming Clinical Year 2 students enrolled for the fall semester. The class includes students from Indiana as well as Illinois and Connecticut. Orientation for the Veterinary Technology on-campus program began today.
Welcome to these students who are part of the PVM family!
Writer: Kevin Doerr, pvmnews@purdue.edu