Faculty Spotlight: Dr. Yava Jones-Hall
July 28, 2017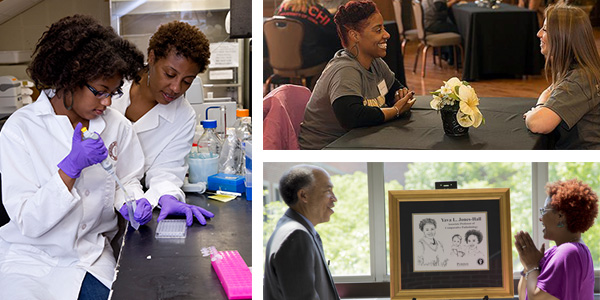 Last but not least — this week's final Vet Gazette Faculty Spotlight focuses on Dr. Yava Jones-Hall, who has recently been promoted to associate professor of veterinary pathology in Purdue Veterinary Medicine's Department of Comparative Pathobiology. Her promotion was recognized along with nine other promoted PVM faculty at the annual PVM Promotions Reception in May.
Dr. Jones-Hall completed her bachelor's degree at Talladega College in 1999 and then earned her DVM degree from the Tuskegee University College of Veterinary Medicine in 2003. As a member of the US Army Veterinary Corps, she deployed to Afghanistan from 2007-2008. Dr. Jones-Hall went on to complete her anatomic pathology residency at Michigan State in 2008. She attained the rank of Captain and was honorably discharged from the Army in 2009. She then earned her PhD from Michigan State University and in December 2010, accepted a position at the Purdue University College of Veterinary Medicine as assistant professor of veterinary pathology.
Throughout her time at Purdue, Dr. Jones-Hall has worked hard and committed herself to veterinary studies. Says Dr. Jones-Hall, "My appointment is teaching, collaborative and independent research, and working in the Animal Disease Diagnostic Laboratory. I have also served on the admissions committee, faculty search committee, and graduate committees in my six years here." Her research focuses on studying how the gut microbiome affects the development and progression of Crohn's disease. She also teaches the gastrointestinal diseases section of systematic pathology.
Outside of Lynn Hall, Dr. Jones-Hall enjoys reading, working out, and spending time with her family. When asked about her favorite aspect of the College, she said, "Picking a favorite is tough! I admire the College's commitment to diversifying the student body and faculty and I also enjoy its support of a healthy work and life balance." Her advice for those wishing to pursue a veterinary medicine career? "Your past is not your future. Find a mentor or support system to help achieve your dream and show you the paths to take."
Congratulations to Dr. Yava Jones-Hall, the focus of this week's Vet Gazette Faculty Spotlight as one of ten promoted faculty this year!
Writer: Natalie Weber, PVM Communications Intern, pvmnews@purdue.edu