PVM Summer Research Team Studies Link between Animal Abuse and Domestic Violence
July 14, 2017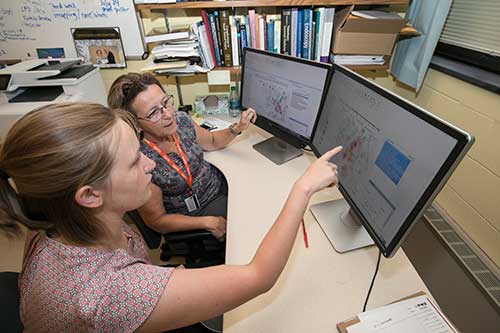 Mallory Stuckwisch, a student in the DVM Class of 2019, works with her faculty mentor, PVM Associate Professor of Small Animal Surgery Lyn Freeman, on a summer research project that focuses on a link between animal abuse and child abuse, utilizing a Purdue software toolkit originally developed to help law enforcement officers.
A Purdue Veterinary Medicine student is spending her summer conducting research aimed at finding supporting data on a link between animal abuse and child abuse in Greater Lafayette. Mallory Stuckwisch, of the DVM Class of 2019, is working on the project as part of the 2017 PVM Veterinary Scholars Summer Research Program with her faculty mentor, Dr. Lyn Freeman, associate professor of small animal surgery and biomedical engineering. The Summer Research Program provides fellowships to veterinary students interested in exploring careers in research.
A key component of Mallory's research project involves a Purdue software toolkit originally developed to help law enforcement officers reduce crime and assist in using big data for decision-making. The Visual Analytics Law Enforcement Toolkit, or VALET, was developed in the Visual Analytics for Command, Control and Interoperability Environments, or VACCINE, Center at Purdue. Nicole Kong, an assistant professor in Purdue Libraries, also will assist with the project by providing her expertise on geographic information systems.
Mallory said the goal of the project is to raise awareness of the link between abuse of animals and children in Tippecanoe County. "Through this project we aim to provide evidence to encourage Indiana politicians to push for adoption of mandatory reporting of animal abuse by veterinarians and cross-reporting between child and animal protection agencies for neglect and abuse cases," she said. "Indiana does have laws regarding animal abuse reporting, but it is not mandatory. We are hoping to take this research to the Indiana Veterinary Medical Association (IVMA) Legislative Committee to help enact this needed change."
The National Link Coalition, part of the National Resource Center on The Link between Animal Abuse and Human Violence, already has identified links between animal abuse or neglect and other forms of family violence and some states have taken action, including California and Virginia, which recently enacted laws requiring reporting by animal control officers and veterinarians who suspect child abuse. Additionally, research from the American Psychological Association reports that 71 percent of battered women report that their abusers had injured, killed or threatened their pet, and in child abuse cases, 85 percent of the abusers also were abusing family pets.
"A colleague from the University of Florida engaged in an extensive project that found the link between animal abuse and domestic violence, along with several other links," Dr. Freeman said. "Veterinarians recognize this link between child and animal abuse, but we're interested in finding the local implications of it."
The VALET system will help Mallory and Dr. Freeman by providing access, analysis and visualization of data related to reporting and dispatching of officers in cases related to child and animal abuse. Developed at VACCINE, which is a Purdue led U.S. Department of Homeland Security Center of Excellence, the VALET software provides real-time data so officers can analyze high-volume criminal, traffic, and civil incident data as well as related emergency management and disaster preparedness events. In doing so, officers can be more strategic in how they allocate their limited resources within their communities.
"Predictive and proactive analytics that create a picture of what is happening at any given time and what could happen in an hour or a day or a week is a tremendous help for law enforcement and disaster relief officials," said David Ebert, director of VACCINE. "For this project specifically, VALET can ingest things like census socioeconomic data or animal shelter data, to make the analysis in the project more comprehensive and significant."
Chittayong "Jao" Surakitbanharn, research analyst at VACCINE, said the data and maps the system can provide could be of great help for this research project. "Our system can provide a spatial overlay of maps in the areas of domestic violence and animal abuse," he said. "We're also able to show hot spots where abuse is reported as well as details such as the time of day abuse is occurring, how often and what other crimes have been reported." Kong said census data also could help tremendously in this project, by giving insight into socioeconomic factors and demographics of those at risk of perpetrating and being victims of abuse.
"Having access to VALET is going to be incredibly helpful to us in having data to support our claims," Mallory said. "In addition to the maps, we plan on taking a deeper dive in looking at public records, talking to local officers and working with the police and humane society to acquire more data."
Mallory will present her findings at the research poster session that concludes the Purdue Veterinary Scholars Summer Research Program August 2, as well as at the meeting of the legislative committee of the IVMA in September. In addition, she has been selected to present her project at the American Board of Veterinary Practitioners (ABVP) Annual Symposium in Atlanta on Friday, October 6. A story about the research project aired locally on WLFI-TV 18 last week (Thursday, July 6). Click here to view the story.
VALET is patented through the Purdue Research Foundation Office of Technology Commercialization.
Writer: Kevin Doerr, pvmnews@purdue.edu