New Named Pharmacy Residency Attracts Pharmacy Graduate to VTH
June 9, 2017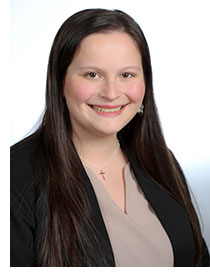 As of Monday, June 12, the Veterinary Teaching Hospital (VTH) pharmacy will have a new person helping out as the Wasson Veterinary Pharmacy Resident. Elizabeth Young will be the VTH's third resident, but the first since the residency was named in honor of Purdue College of Pharmacy alumni and donors Greg and Kim Wasson, of Long Grove, Ill., who contributed funding for the residency.
The Wassons are no strangers to animal care and Purdue Veterinary Medicine. Kim owns a 25 horse stable and their daughter, Courtney Iverson, is a 2015 Purdue DVM graduate who is a veterinarian at Fox Valley Equine Practice in La Fox, Ill. Greg received the College of Pharmacy's Career Achievement Award last year, after retiring from Walgreen Company as president, chief executive officer and a member of its board of directors.
"The veterinary pharmacy residency program has been extremely successful as we continue to build bridges between the College of Veterinary Medicine and the College of Pharmacy," said VTH Pharmacy Director Wil Gwin. "Clinical contributions continue to grow, benefitting our patients and contributing to the education of tomorrow's veterinarians, veterinary technicians, and pharmacists."
Elizabeth comes to Purdue from the Virginia Commonwealth University (VCU) School of Pharmacy, where, as a student pharmacist, she was able to take a veterinary pharmacy elective and complete a fourth-year rotation at the North Carolina State University College of Veterinary Medicine. Her interest in animals and veterinary medicine dates back to her childhood, growing up on a hobby farm in Christiansburg, Va. "On the family farm we had numerous pets, from exotics to large animals," Elizabeth explained. "So I have thus grown up being involved with animals and their care." Additionally, her father is a small animal veterinarian. "He encouraged me to come to his practice after school and help out wherever I could. This experience further cultivated my interest in working with animals."
Elizabeth said her desire to become a pharmacist developed when she observed how pharmacists interacted with her grandmother, who had been diagnosed with Alzheimer's. "When I started my undergraduate career at Virginia Tech, my mom convinced me to apply for a pharmacy technician position at the Virginia-Maryland College of Veterinary Medicine, where I worked for two-and-a-half years." That experience opened her eyes to the possibility of having the best of both worlds by being a pharmacist and still working with animals and educating others about the world of veterinary pharmacy. "Looking back at my experience of working with my father, I remembered observing situations where he would call in a prescription to a pharmacy and the pharmacist would have questions about dosing in veterinary patients. I realized that I could have an opportunity to educate pharmacists as well as veterinarians who might not have had the didactic education that is needed for veterinary patient medications."
While completing her pharmacy degree program at VCU, Elizabeth's interest in veterinary pharmacy intensified as she interacted with friends and classmates after they learned of her intention to become a veterinary pharmacist. "Their questions about personal pets and medications that were prescribed further influenced me to continue my journey toward veterinary pharmacy. I came to the conclusion that my classmates and other pharmacists will need a resource to help with veterinary patients. This clinical veterinary pharmacy residency will provide numerous experiences that will expand my knowledge to become that resource."
Please help extend a warm PVM welcome to Elizabeth as she begins her one-year program as the VTH's Wasson Veterinary Pharmacy Resident.
Writer: Kevin Doerr, pvmnews@purdue.edu