Ceremony Recognizes Junior Veterinarians
April 14, 2017
Sunday afternoon (April 9) marked a momentous occasion for members of the Purdue Veterinary Medicine Class of 2018 as they took part in the College's White Coat Ceremony held in the Stewart Center's Fowler Hall. Previously held in conjunction with the Honors and Awards Ceremony, the event recognizes students entering their final year of the DVM program with a ceremonial donning of white coats symbolizing their new role as junior veterinarians. Sponsored by Hill's Pet Nutrition and Elanco Animal Health, this year marks the 16th year for the annual event.
In welcoming those in attendance, Dean Willie Reed shared, "The white coat indicates your acceptance of your great responsibility toward your patients and clients, your commitment to show compassion and empathy, and to make a positive difference in the life of every animal and person with whom you come into contact. Four weeks from tomorrow, you will begin your clinical year during which you will be interacting with Veterinary Teaching Hospital clients as veterinary professionals. This is a big responsibility!" Associate Dean for Academic Affairs Kathy Salisbury then introduced the class members individually as they walked onto the stage where Dean Reed helped them don their white coats. Each student posed for an official photo with Dean Reed and then received a name badge from the Indiana Veterinary Medical Association (IVMA). This year, PVM alumni also had the opportunity to take part in the program through the sponsorship of a white coat. Additionally, inside the pocket of each white coat, students received a note from a PVM alumni member offering words of encouragement as they take the next step in their career.
Kristen Puls, of the DVM Class of 2017, shared words of wisdom from her experiences before Dr. Stephanie Thomovsky, clinical assistant professor of veterinary neurology in the Department of Veterinary Clinical Sciences, shared "The Journey Ahead… A Clinician's Insights." Dr. Thomovsky was selected by the Class of 2018 as the faculty member from whom they'd like advice regarding their entry into the clinical year.
The event also provided an opportunity to recognize the outstanding accomplishments of third-year students. The following award-winners were honored:
Melissa Swan — Dr. William W. Carlton Award for Aptitude in Veterinary Pathology
Recognizing a third-year student who has shown aptitude in the study of pathology

Allison Mustonen — Indiana Horse Council Equine Industry Award
Chosen by peers as having provided the greatest exposure of the equine industry to other students

Molly Maynard — Holly Watts Memorial Award
Honoring a student with exceptional interest and proficiency in non-domestic animal medicine

Elise Mauer — Simmons & Associates Business Aptitude Award
In recognition of a student who expresses interest in and aptitude for the business of private veterinary practice

Justin Knoll — Zoetis VECCS Award for Proficiency in Emergency and Critical Care
Honoring a student who excels in the area of veterinary emergency and critical care
The ceremony was followed with a light reception for attendees. Photos of the White Coat Ceremony were taken by professional photographer Ed Lausch and will soon be available on his website to be viewed and purchased online at www.lauschphotography.com. Enter the Username "2017whitecoat" and the Password "april2017" to view the photos. Congratulations to the DVM Class of 2018!
Zoetis VECCS Award for Proficiency in Emergency and Critical Care honoree Justin Knoll, of the DVM Class of 2018, with Dean Reed at the 2017 White Coat Ceremony.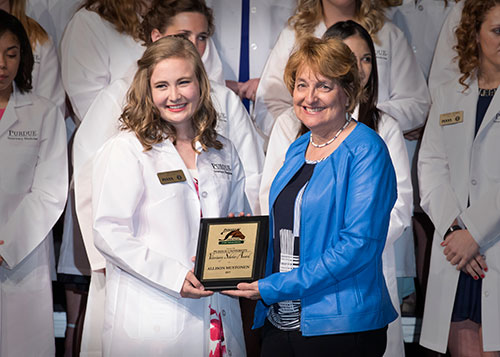 Dr. Sandi Norman (PU DVM '80), of the Indiana Board of Animal Health, presents Allison Mustonen, of the DVM Class of 2018, with the Indiana Horse Council Equine Industry Award.
Writer: Allison Carey, pvmnews@purdue.edu