Picnic Brings Together Summer Research Scholars and Mentors to Kick-off Summer Program
Friday, June 17, 2022

The start of summer means the opportunity for undergraduate and veterinary students to gain first-hand experience working in research laboratories courtesy of the College of Veterinary Medicine's annual Veterinary Research Scholars Summer Program. This year's program kicked-off the evening of June 2 with a traditional Indiana picnic, hosted by the college's Office of Research, at Happy Hollow Park in West Lafayette, complete with hamburgers and pork barbecue. 
A total of 16 students are participating in the Veterinary Scholars Summer Research Program this year, including eight Purdue veterinary medicine students in the classes of 2024 and 2025, a second-year veterinary student from Auburn University, and seven undergraduate students. Five of the undergraduates are Purdue students. The remaining two are from the University of Findlay in Ohio and Franklin College in Indiana.
The goal of the program is to increase the number of veterinarians involved in biomedical and clinical research. The participants are able to explore non-practice veterinary careers by engaging in a mentored research project through informal and formal interactions with veterinary scientists. At the end of the summer, the participants who are veterinary students will be able to travel to the National Boehringer Ingelheim Veterinary Scholars Symposium.
A key element of the program is pairing the participants with faculty mentors. Working with their mentor, each participant designs and conducts a summer research project. Additional components of the program include participating in weekly seminars about such topics as Careers in Academia, Industry and Government; Ethics; Scientific Writing; Research Funding; and How to Balance a Career and Personal Life.  Additionally, there are opportunities to participate in extracurricular activities, as well as a research poster session where the students are able to share their summer research project with the college's faculty and staff. Dr. Harm HogenEsch, Purdue Veterinary Medicine associate dean for research and professor of immunopathology, and Dr. Eli Asem, professor of physiology in the Department of Basic Medical Sciences, organize the program by matching students and faculty. The participants in the eleven-week program are selected through an application process. A special thank you to the 16 Purdue Veterinary Medicine faculty members serving as mentors. 
DVM student participants, their home university, and mentors include:
Megan Jaros, Auburn University, DVM Class of 2025 | Dr. Deb Hickman, clinical professor of comparative pathobiology; associate vice president for animal resources, Purdue University Office of the Executive Vice President for Research and Partnerships (EVPRP)
Victoria Johnson, Purdue University, DVM Class of 2024 | Dr. Amanda Darbyshire, clinical assistant professor, Department of Comparative Pathobiology; Laboratory Animal Program veterinarian, Office of the EVPRP
Allyson Jones, Purdue University, DVM Class of 2025 | Dr. Wendy Beauvais, assistant professor of epidemiology and public health, Department of Comparative Pathobiology
Brooke Lenters, Purdue University, DVM Class of 2025 | Dr. Jessica Fortin, assistant professor of physiology and pharmacology, Department of Basic Medical Sciences
Mary Nowak, Purdue University, DVM Class of 2025 | Dr. Andrea Santos, assistant professor of veterinary clinical pathology, Department of Comparative Pathobiology
Marissa Ramon, Purdue University, DVM Class of 2025 | Dr. Riyi Shi, Mari Hulman George Endowed Professor of Applied Neuroscience, Department of Basic Medical Sciences; director, Center for Paralysis Research
Krysten Schmidt, Purdue University, DVM Class of 2024 | Dr. Abby Cox, associate professor of veterinary anatomic pathology, Department of Comparative Pathobiology; director, Histology Research Laboratory
Kathryn Wolfert, Purdue University, DVM Class of 2024 | Dr. Debbie Knapp, Distinguished Professor of Comparative Oncology, Dolores L. McCall Professor of Comparative Oncology, Department of Veterinary Clinical Sciences; director, Purdue Comparative Oncology Program
Maria Ximena Yanez Diaz, Purdue University, DVM Class of 2025 | Dr. Tim Lescun, professor of large animal surgery, Department of Veterinary Clinical Sciences
Undergraduate student participants, their home university, and mentors include:
Jasmine Aggarwal, Purdue University | Dr. Luis Neves dos Santos, assistant professor of cardiology, Department of Veterinary Clinical Sciences
Cassidy Baran, University of Findlay | Dr. Laurent Couëtil, professor of large animal internal medicine, Department of Veterinary Clinical Sciences; director, Donald J. McCrosky Equine Sports Medicine Center and Equine Research Programs
Garrett Bryak, Purdue University | Dr. Shankar Thangamani, assistant professor of microbiology, Department of Comparative Pathobiology
Shih Kuan (Tim) Chou, Purdue University | Dr. Hsin-Yi Weng, associate professor of clinical/analytical epidemiology, Department of Comparative Pathobiology
Allison Eldridge, Purdue University | Dr. Harm HogenEsch, associate dean for research and Distinguished Professor of Immunopathology, Department of Comparative Pathobiology
Emily Knorr, Purdue University | Dr. Adam Kimbrough, assistant professor of basic medical sciences
Samantha Pankratz, Franklin College | Dr. Maggie O'Haire, associate professor of human-animal interaction, Department of Comparative Pathobiology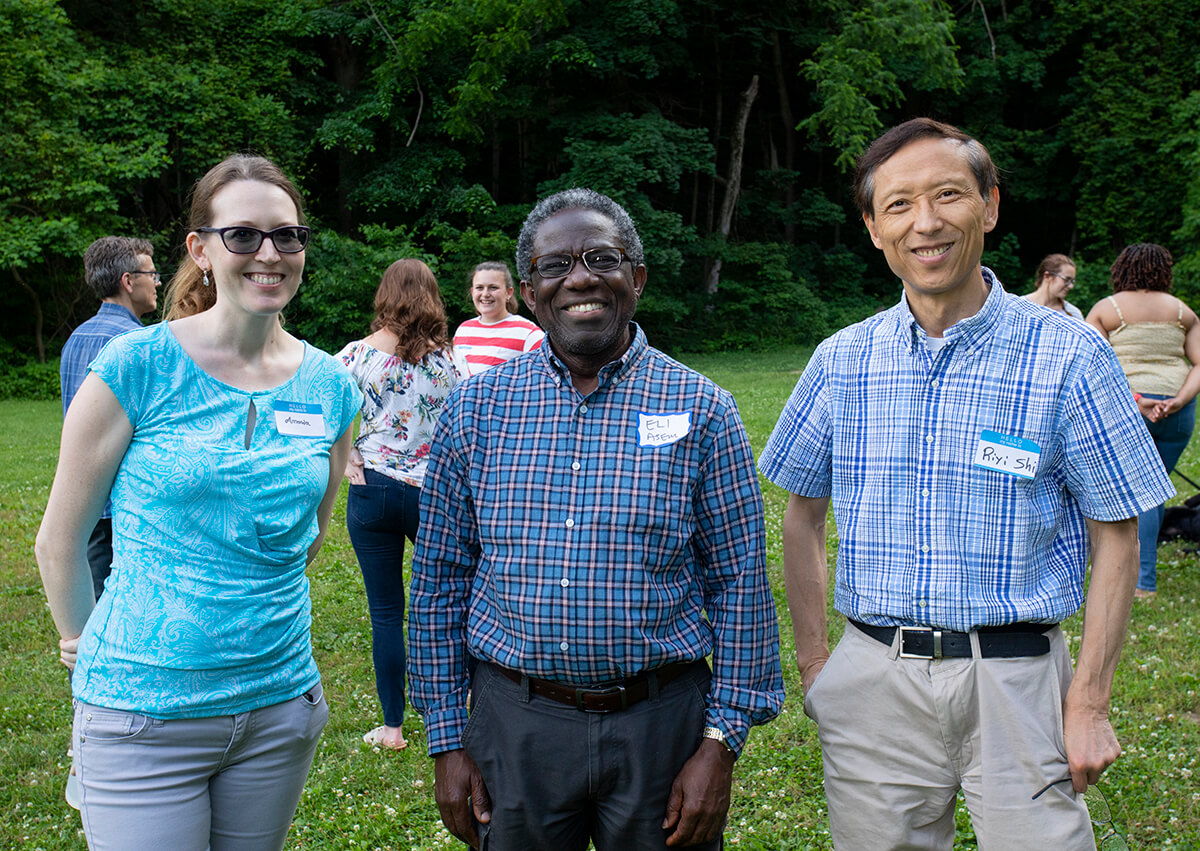 Writer(s): Kevin Doerr | pvmnews@purdue.edu