Annual Research Day Recognizes Important Milestone with Focus on Scholarship
Friday, June 24, 2022
This year marked a special edition of the annual Purdue Veterinary Medicine Research Day as the event coincided with the 60th Anniversary of Purdue's Omicron Chapter of the Society of Phi Zeta, which is the honor society of Veterinary Medicine. The chapter annually organizes the event that highlights scientific discovery in the College of Veterinary Medicine. The 2022 PVM Research Day also represented the first time the event had been held in person in two years, because the pandemic necessitated cancelling the event in 2020 and conducting it in an online format last year.
Faculty, graduate students, residents, and veterinary students all contributed to making the PVM Research Day successful.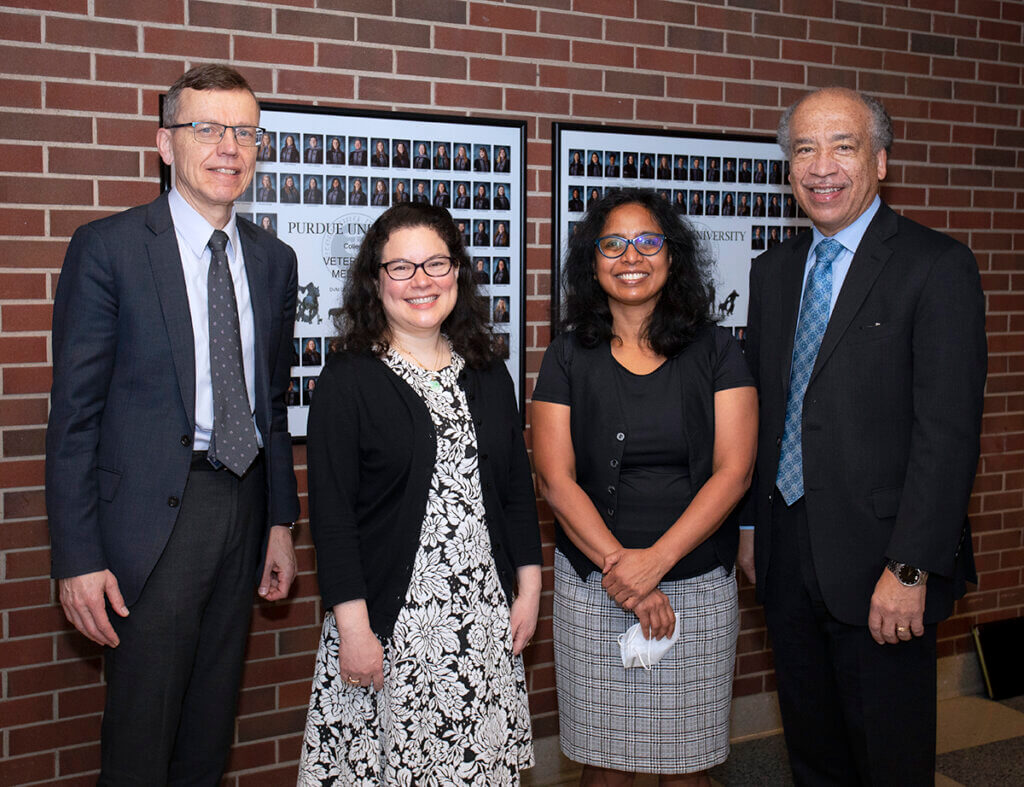 This year's Research Day began with remarks by Dean Willie Reed followed by an introduction of the keynote speaker by Dr. Malathi Raghavan, this year's Omicron Chapter president. Dr. Sumiko Mekaru, director of public health and clinical design at The Public Health Company and a veterinary epidemiologist working at the intersection of traditional epidemiology and information technology, gave the keynote presentation on the topic, "Data Science Needs Veterinarians! (They Just Don't Know it Yet)."
Then new members were inducted into Phi Zeta, beginning with third-year DVM students in the top ten percent of their class and fourth-year veterinary students in the top 25 percent of their class. Faculty, graduate students, and residents also were inducted based on their nomination by their respective departments for their contributions to scholarship and research in veterinary medicine.
The remainder of the morning program involved a series of oral presentations given in parallel panel sessions focused on the themes of Big Data/Bioinformatics, Oncology, and Systemic Inflammatory Response Syndrome (SIRS)/Sepsis. Following the panel sessions, attendees were able to visit a Research Poster Session that showcased poster presentations about research conducted by graduate students, residents, and DVM students, who stood by their posters to discuss them and answer questions.
The afternoon portion of the Research Day featured presentations by winners of research awards, including the Osborne Award Competition finalists, the recipient of the 2022 Phi Zeta Omicron Chapter Graduate Student Research Award, the 2022 PVM Graduate Student Research Award winner, and the Phi Zeta Manuscript Award winner in Clinical/Applied Research.
The presentations concluded with a talk by the recipient of the 2021 Zoetis Award for Veterinary Research Excellence, Dr. Maggie O'Haire, professor of human-animal interaction in the Department of Comparative Pathobiology, as well as a special presentation commemorating the 60th Anniversary of the Omicron Chapter of Phi Zeta, given by Dr. Deborah Knapp, Distinguished Professor of Comparative Oncology.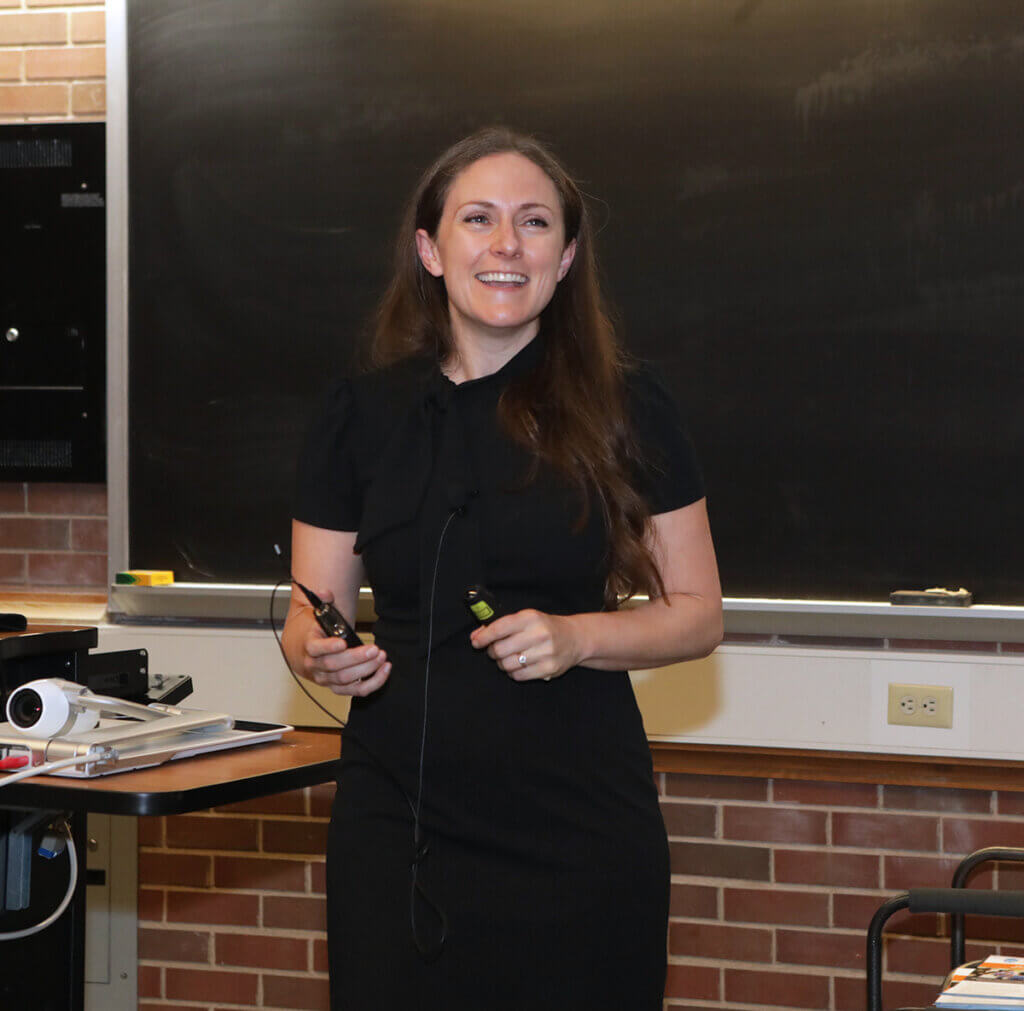 Dr. O'Haire provided an insightful look at the science behind the human-animal bond, highlighting the importance of research in the field of human-animal interaction, especially in relation to the use of service dogs. Focusing her comments primarily on service dogs as a therapy for veterans suffering with PTSD, Dr. O'Haire explained how research can lead to greater support for these programs.
Dr. O'Haire pointed out that approximately 20 percent of veterans are diagnosed with PTSD, of which only 50 percent seek treatment. Twenty to 40 percent of those in treatment drop out. Dr. O'Haire explained that her team's research has provided evidence that service dogs can alleviate some PTSD symptoms. The data, collected via self-report surveys and stress hormone level testing, is limited but promising. Veterans reported fewer PTSD symptoms and improved mood, while the testing of samples showed healthier levels of stress hormones.
According to Dr. O'Haire, so far, the research already has helped lead to the signing of the federal Puppies Assisting Wounded Servicemembers (PAWS) for Veterans Therapy Act. The new law requires the Department of Veterans Affairs "… to conduct a five-year pilot program to provide canine training to eligible veterans diagnosed with PTSD, as an element of a complementary and integrative health program." While that milestone is significant, Dr. O'Haire emphasized the importance of further research to establish additional documentation showing that service dog programs are worth the investment. Service dogs are already in high demand and she points out that increased public support and funding not only would help people who stand to benefit from service dogs, but also would help to maximize the effectiveness of these working dogs.
Dr. O'Haire also briefly discussed other examples of service dog programs, including those that involve providing facility dogs for pediatric oncology centers and service dogs for individuals with autism spectrum disorder. Pediatric oncology facility dogs have been shown to help hospital personnel reduce burnout, turnover, and improve mental health. Dr. O'Haire concluded her talk by explaining how these other service dog applications also require further research to satisfactorily document their efficacy and help heighten support for service dog programs of all kinds.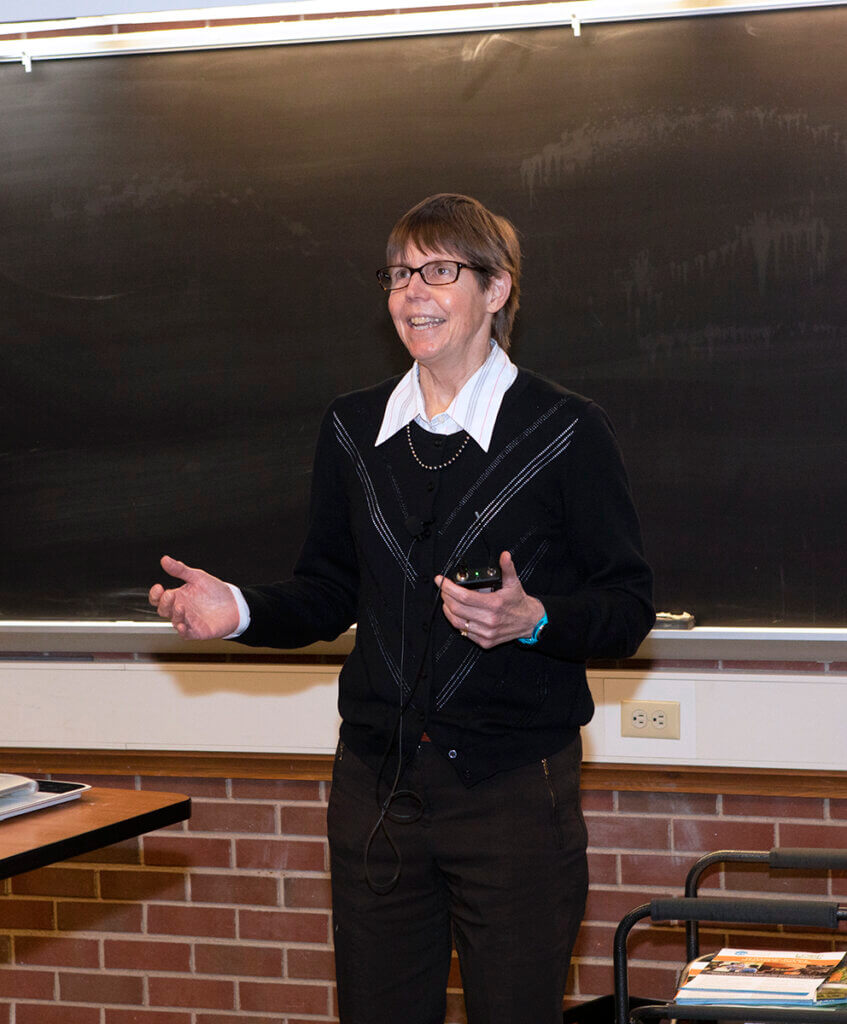 Dr. Knapp's special presentation marking the occasion of the 60th anniversary of the Omicron Chapter of Phi Zeta, addressed the topic, "Combining Clinical and Basic Science to Grow a Research Program in a Clinical Setting." Drawing on her own experience as a clinician who developed a successful comparative medicine research program focused on bladder cancer, Dr. Knapp stressed the importance of clinicians doing research. "That's the only way we will change the outlook for the diseases we see every day," Dr. Knapp explained. "If we don't do research, 25 years from now, we're not going to be giving any better outlooks than what we're giving today."
Dr. Knapp also emphasized how clinicians understand what really matters in the disease they choose to study, "We understand what questions we have to answer to make progress." She also described how clinicians can serve as a bridge between other scholars, including basic scientists and medical doctors, and highlighted the importance of training, from learning general research methods, to becoming an exceptional critical thinker.
In addition, Dr. Knapp stressed the importance of focus, noting that veterinarians treat patients with different diseases every day, and this leads to a natural tendency to jump around from one disease to another in their research. She said in order to have the most impact, it's important not to do that. "Research focus is how you're going to have impact – how you're really going to change the disease that you choose to study," Dr. Knapp said. She recalled her own experience of getting involved in research on bladder cancer because of what happened in the case of canine oncology patients treated with Piroxicam, a non-steroidal anti-inflammatory drug. "We didn't know it had anti-tumor effects. We were just trying to make the dogs comfortable." But Dr. Knapp had observed that in both cases, the dogs' tumors shrank dramatically. "That drug was my initial focus on cox inhibitors. And from there we jumped into bladder cancer because that was one of the tumor types where these drugs were having the most activity. Once we got into the bladder cancer field, we realized we can answer a lot of really important questions in dogs. So we maintained those two overlapping focus areas."
As a result of her focused research success, Dr. Knapp attracted grants, and people sought her out for help for their pets. "We've seen dogs from more than 35 states who seek us out because their dog has bladder cancer and they know we've done work in the area," Dr. Knapp said. "We've received gifts from human bladder cancer patients who appreciate what we're doing. We've received gifts from pet owners, too."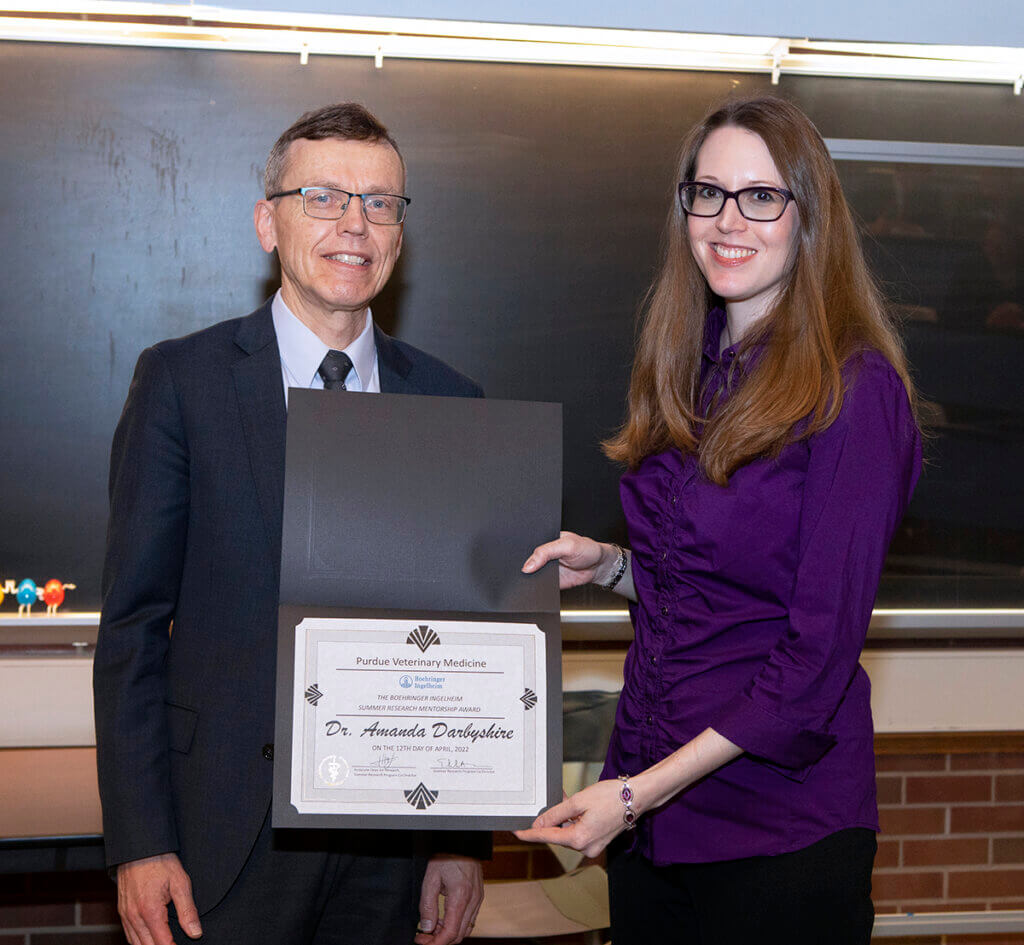 Dr. Knapp also emphasized the importance of teams, including mentoring teams, teams of colleagues, and project specific teams. She then concluded, "Clinical and basic science can be combined to grow a dynamic research program and the possibilities are numerous and exciting, and I highly recommend this."
The Research Day concluded with award presentations, including a new award sponsored by Boehringer Ingelheim Animal Health that was presented by Associate Dean for Research Harm HogenEsch, who explained that it recognizes a faculty member who mentors students in the College of Veterinary Medicine's Summer Research Program. This year's Boehringer Ingelheim Summer Research Mentorship Award recipient is Dr. Amanda Darbyshire, who has a faculty appointment in the Department of Comparative Pathobiology and is one of two board certified laboratory animal veterinarians at Purdue. Dr. HogenEsch praised her not only for doing a great job mentoring Summer Research Program participants, but added that she also has given seminars as part of the program to introduce students to careers in laboratory animal medicine.
The following additional awards also were presented:
PHI ZETA MANUSCRIPT AWARD
Clinical/Applied Research: Dr. Nelly Elshafie, graduate student, Department of Comparative Pathobiology
PHI ZETA OMICRON AWARD
1st place: Shreya Kumar, graduate student, Department of Basic Medical Sciences
PVM GRADUATE STUDENT AWARD
1st place: Shawna Cook, graduate student, Department of Basic Medical Sciences
2nd place: Taylor Bailey, graduate student, Department of Comparative Pathobiology
OSBORNE AWARD FINALISTS
1st place: Dr. Karena Tang, clinical pathology resident, Department of Comparative Pathobiology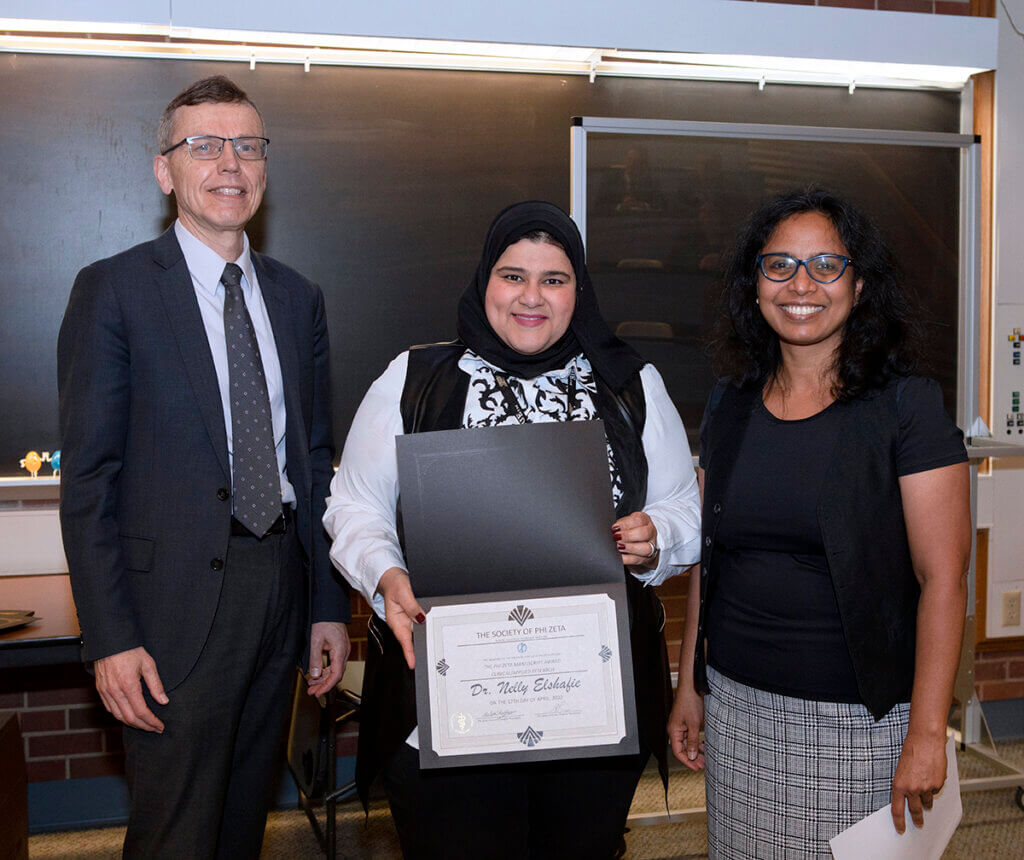 2nd place: Dr. Levi Smith, ophthalmology resident, Department of Veterinary Clinical Sciences
3rd place: Dr. Sara Ostenkamp, cardiology resident, Department of Veterinary Clinical Sciences
RESEARCH POSTER AWARDS
Basic Science
1st place: Dr. Jennifer Peterson, small animal surgery resident, Department of Veterinary Clinical Sciences
2nd place: Shawna Cook, graduate student, Department of Basic Medical Sciences, and
Juan Hernandez-Franco, graduate student in immunology, Department of Comparative Pathobiology
Clinical/Applied Science
1st place: Dr. Daniela Peña Hernandez, microbiology resident, Department of Comparative Pathobiology and Animal Disease Diagnostic Laboratory
2nd place: Dr. Leanne Nieforth, graduate student in human-animal psychology, Department of Comparative Pathobiology
DVM Students
1st place: Max Rowley, Class of 2023
2nd place: Alex Rahn, Class of 2023
Recordings of the presentations by Drs. O'Haire and Knapp, as well as panel discussions, additional presenters throughout the day, and award presentations are available on the PVM Research Day webpage. Click here to view a gallery of photos from the event.
Writer(s): Kevin Doerr | pvmnews@purdue.edu